Old tavern in Venice San Polo
We are a traditional Venetian restaurant and pub located in the San Polo district. For several years the restaurant has been a real point of reference for numerous families, couples and friends.
Our restaurant has a furnishing with attention to every single detail and detail, it is the design and furnishings that distinguish us and characterize us, making us leaders in the sector.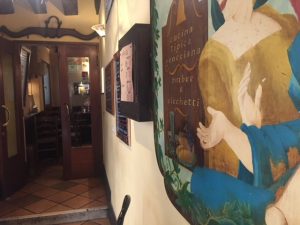 We pay great attention to every corner of our pub, because it is the little things that make the difference.
The menu offers typical dishes of Venetian cuisine such as risotto alla marinara, spaghetti with clams, fish soup, mixed fried and many other traditional dishes, do not hesitate to contact us to find out more information, services and curiosities about our old and traditional osteria in Venice San Polo.
Traditional tavern in San Polo
Are you looking for a traditional tavern in San Polo and you don't know who to turn to? We are the right solution for you, our experienced and qualified staff will always be ready to provide you with maximum assistance to satisfy your doubts, requests and questions.Taking care of a traditional tavern in San Polo on a daily basis is much more than a job, but a great passion that unites and represents us.We create house specialties with a unique taste, using only raw materials carefully chosen and selected by experts in the sector, ready to verify the quality considered indispensable for our pub.
Come and visit us at our pub in Venice San Polo, for an evening of good taste and fun.
Fill out the form to request information and you will be contacted as soon as possible by our team.